End-to-end value chain
VARO operates an integrated end-to-end value chain, stays on top of market developments and oversees the value chain from feedstock sourcing and raw materials through to the end customer.
Operations overview
In order to distribute the energy our customers need, VARO is sourcing high-quality feedstock that will be processed either in our infrastructure or in third-party infrastructure. Feedstocks can be multiple (crude oil, natural gas, bio-feedstock, waste, etc.) and VARO is constantly investigating more sustainable solutions.
VARO is manufacturing energies to meet its customers' demand. VARO owns and operates the Cressier manufacturing hub in Switzerland, the only fuel manufacturing facility in Switzerland, and owns a 51.4% share in the Bayernoil manufacturing hub in Germany.
Daily manufacturing hub capacity of circa 176,000 barrels has established VARO as an experienced, safe and reliable operator, well respected by the local communities. Our manufacturing asset base is expected to grow as VARO invests in Sustainable Energies.
A reliable and efficient logistics network is a key element in delivering energy to our customers. Apart from pipeline transportation, VARO's major logistics channels are rail and marine transportation, and to a lesser extent, heavy-duty vehicle transportation.
VARO serves a large network of Business-to-Business (B2B) customers, retail customers and consumers across Europe. In addition to reliably supply the energy they need, VARO will be partnering with existing and future customer segments (aviation, industry, food retailers and wholesalers) to co-develop energy solutions to meet their decarbonisation needs.
Solutions overview
VARO is a top supplier of high quality products to various sectors across Europe, including transportation, agriculture, industry, manufacturing, construction and home energy.
VARO is one of the main suppliers of jet fuel to the Munich airport.
VARO provides several biofuel solutions for our customers to meet the rising demand for products which minimize the impact on the environment.
VARO's bitumen business is based in Germany where we produce, sell and distribute our specialized polymer blends for road construction.
VARO continuously invests to produce higher grade bunker fuel oil.
Our ability to understand and navigate the bunker fuel market's complexity sets us apart.
VARO is a fully integrated player in voluntary nature-based carbon removals through investment in forestry projects with partners.
Provide a turnkey charging-solution for customers transitioning to e-mobility.
VARO produces and blends several gasoline grades and biofuels to meet our customer demands.
VARO provides several grades of heating oil, the most common being 50ppm grade. Through VARO's logistical services and extensive network of wholesale and B2C distribution points, we deliver heating oil to customers in Belgium, France, Germany, Luxembourg and Switzerland.
VARO actively produces and supplies LPG to clients in the commercial and private sector in Germany and Switzerland.
VARO offers ULSD fuels that are available to our customers through our many distribution points, inland waterway bunker stations and retail stations.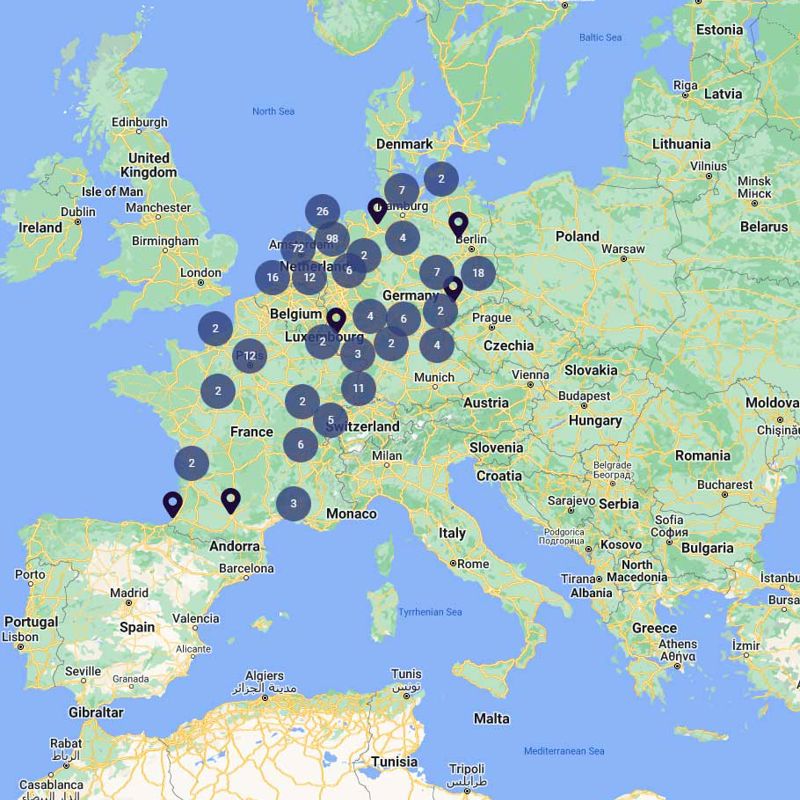 Our network
VARO has a wide infrastructure network in Europe that produces, stores and distributes energies for its customers.
View our network
An integrated portfolio of energy solutions to meet customers' needs
Engine 1
Conventional Energies
Engine 2
Sustainable Energies
The energy transition partner of choice
Curious to find out more about our strategy and ambitions?
VARO's twin engine strategy is designed to help our customers by supplying the low-carbon and reliable energy they need to reach Net Zero.
Read about our strategy