Most powerful solar facility in Switzerland: With an installed capacity of 8 MW, producing around 8.4 GWh per year, this single facility produces the equivalent of around 2,000 households' annual consumption.
Decarbonising of the manufacturing hub of Cressier: VARO and Groupe E have developed a solar facility composed of 19,000 photovoltaic panels, which covers an area of 47,000 m2 of industrial land. At periods of peak production, it will meet 60% of the electric power needs for the Cressier manufacturing hub.
The solar facility includes a specialized section equipped with cutting-edge, innovative panels for technical advancement developed by CSEM, a Swiss technology innovation center based in Neuchâtel
First homes connected to the district heating system Entre-deux-Lacs in the Cornaux-Cressier area, jointly developed by VARO and Groupe E and the communes: Utilising excess heat from the Cressier refinery and demonstrating how effective energy management can enable a substantial reduction of CO2 emissions in the region. Inaugurated in the presence of Swiss Federal Councillor and Climate Minister Albert Rösti, these projects make a significant contribution to the decarbonisation of our energy consumption
8th September 2023, Zug and Granges-Paccot (Switzerland) – VARO Energy ("VARO") and Groupe E will today inaugurate Switzerland's largest ground-mounted solar power facility and a district heating power using excess heat from the refinery. This announcement follows VARO and Groupe E's long-term strategic partnership in the development and supply of sustainable and renewable energy solutions.
The solar facility covering an area of 47,000 m2 and consisting of 19,000 panels is the most powerful ground-mounted plant of its kind in Switzerland. Its output is equivalent to the consumption of around 2,000 households. Around 5% of its area will be dedicated to technological innovations piloted by the Swiss research and development center CSEM, active in the fields of precision manufacturing, digitalisation, and renewable energy.
CSEM will study the advantages and disadvantages of variable installation configurations and technologies. The aim will be to identify optimal setup with the objective of achieving higher electricity production and lower maintenance costs.
Alongside the commissioning of the solar plant, Groupe E is connecting a district heating network that collects residual heat from the Cressier manufacturing hub's operations to supply the neighbouring municipalities. These include in the near term Cornaux and Cressier, with La Tène, St-Blaise and Hauterive being connected over time. Ultimately, the replacement of thousands of gas or oil-fired heating systems should lead to a reduction in CO2 emissions of around 15 to 19 kt of CO2 per year.
Dev Sanyal, CEO of VARO stated: "We are proud to inaugurate these two landmark sustainable energy projects with Groupe E and CSEM, which enable VARO's Cressier manufacturing hub – and the community in which VARO operates – to decarbonise. These projects align with our long-term strategy to accelerate the energy transition, while also reducing emissions. This is the energy transition in action"
Jacques Mauron, CEO of Groupe E said: "The Cressier solar farm and VARO's waste heat recovery system are the result of a successful collaboration between the two energy specialists Groupe E and VARO. These achievements make a significant contribution to the environmental objectives of the canton of Neuchâtel and increase the production of local and renewable energy. This is an important signal for Switzerland, which must act now to take its energy destiny into its own hands and reduce its dependence on energy imports."
Matthieu Despeisse, Group Leader Solar Modules, CSEM, said: "Testing our next-generation technologies directly in an industrial production setting is a great opportunity for CSEM. These tests, carried out just a few kilometers from the research laboratories, enable us to obtain precise data on the performance achieved by the various innovations we are proposing, so that we can validate and guide developments."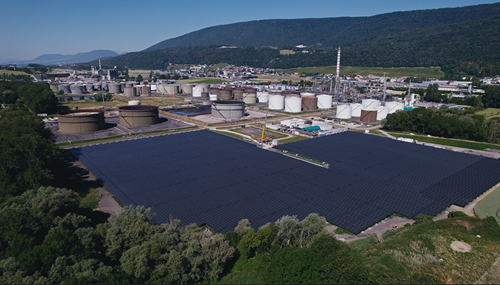 Notes to editors
Groupe E
Operating in Western Switzerland, we help our customers realise their projects by providing comprehensive, efficient and sustainable energy solutions, whether for the production and distribution of electricity and heat, electrical installations, home automation, soft mobility, air conditioning or water treatment. As an exemplary employer, we support the skills development of our 2,600 employees, including 270 apprentices, as well as the reconciliation of private and professional life. For more information, visit www.groupe-e.ch.
CSEM
CSEM is a Swiss technology innovation center developing advanced technologies with a high societal impact, which it then transfers to industry to strengthen the economy. The non-profit orientated, public-private organization is internationally recognized, and works to support the disruptive activities of companies in Switzerland and abroad. CSEM operates in the domains of precision manufacturing, digitalisation, and sustainable energy. To accomplish its mission as gateway between research and economy, CSEM's more than 550 employees from 46 countries collaborate with leading universities, scientific institutions, research institutes, and industrial partners. With its six sites in Allschwil, Alpnach, Bern, Landquart, Neuchâtel and Zurich, CSEM is active all over Switzerland. www.csem.ch
VARO 
VARO Energy ("VARO") is the partner of choice for customers in the energy transition by providing the sustainable and reliable energy solutions that they need to decarbonise. Engine 1 includes manufacturing, storage, distribution, marketing, and trading of conventional energies. Engine 2 activities are focused on sustainable energies and include biofuels, biogas, green hydrogen, e-mobility, and nature-based carbon removals. VARO plans to invest around
$3.5 billion over the 2022-26 period, with two-third committed to sustainable energies. The company has a net zero target for scope 1, 2 and 3 by 2040. VARO is a Swiss-based private company, owned by The Carlyle Group (66.66%) and by Vitol (33.33%).
For further information, please contact
VARO Media Relations
Georgiana Mystakidi
Phone: +41 (0) 79 925 60 79
Email: [email protected]
Brunswick
Will Medvei and Nabhan Malik
Phone: +44 (0)20 7404 5959
Email: [email protected]